20 Sayings for when you need them most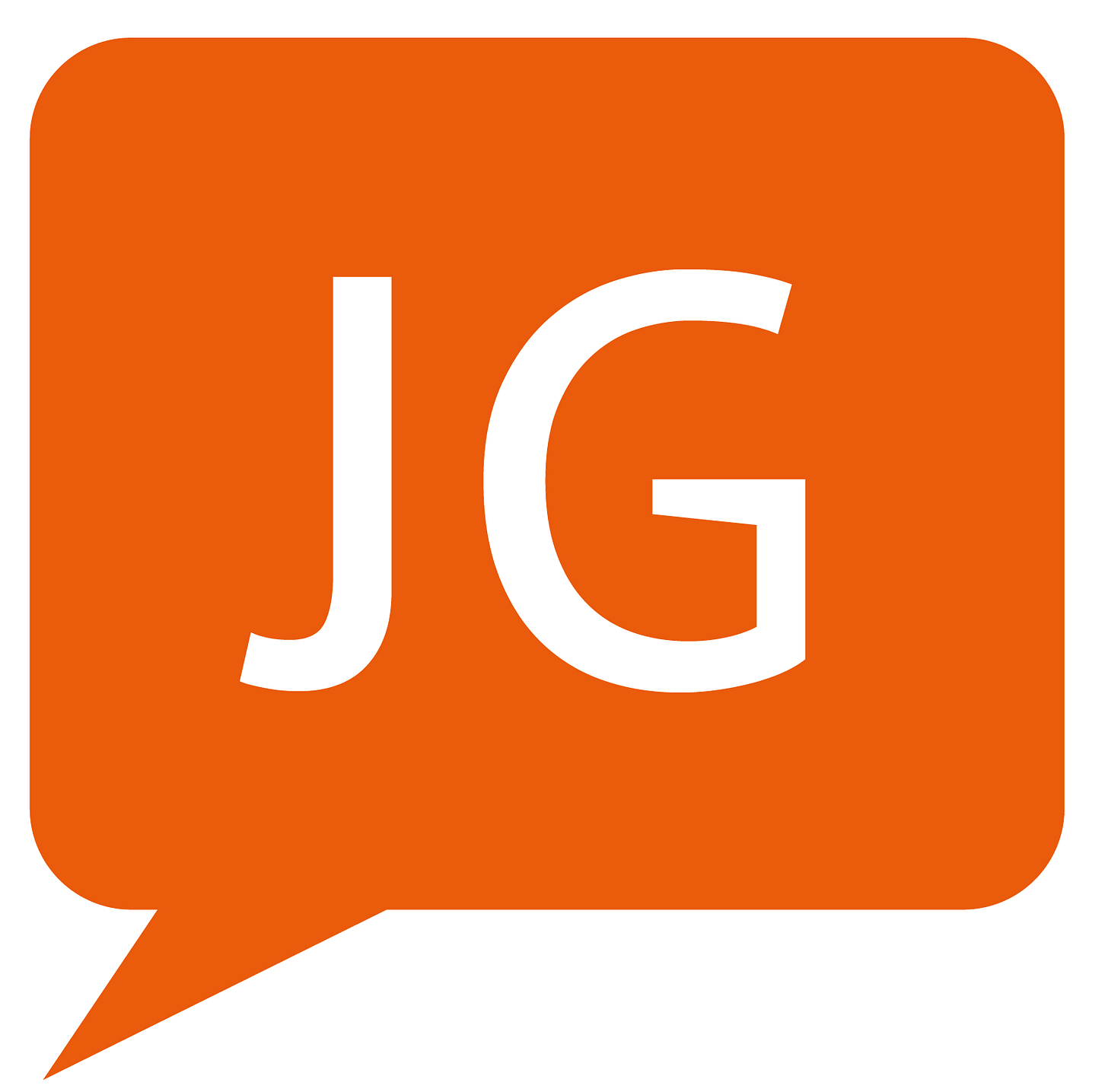 I asked you guys on LinkedIn for your favourite sayings and I was not disappointed! Here's a list of some inspirational sayings that are easy to remember and super powerful. If you have a phrase/saying that is important to you then please reply to this email!
---
One thought: Done is better than perfect… and more! 💭
Here are 20 amazing sayings. I've numbered them so you can tell me your favourites!
#1 "Get comfortable with being uncomfortable"
#2 "Motivation is a myth"
#3 "Done is better than perfect"
#4 "Hope is not a strategy"
#5 "Problems are a sign of life… I want to live"
#6 "May your choices reflect your hopes, not your fears"
#7 "How you do anything is how you do everything"
#8 "Failure is better than regret"
#9 "Nothing changes if nothing changes"
#10 "Focus on your controllable actions"
#11 "You can't pour from an empty cup"
#12 "Swift to listen, slow to respond"
#13 "Ambition without action is fantasy"
#14 "Better is always better"
#15 "If not now, when? If not me, who?"
#16 "A ship in a harbour is safe - but that is not what ships are built for"
#17 "Hope for the best, prepare for the worst"
#18 "Nobody is coming to save you"
#19 "The expert in something was once a beginner"
#20 "Action is the antidote to fear"
BONUS!
#21 "Visibility is more important than ability itself"
What quote stood out to you the most?
I'm not sure if it's because we need to hear certain things at certain times, but the saying: "You can't pour from an empty cup" really hit home for me. I relate that to burn-out and how critical it is to take time to recharge, despite the fact that we think we can power through.
This relates to a previous post I wrote about "Marathons vs. Sprints". I know I need to listen to this advice right now!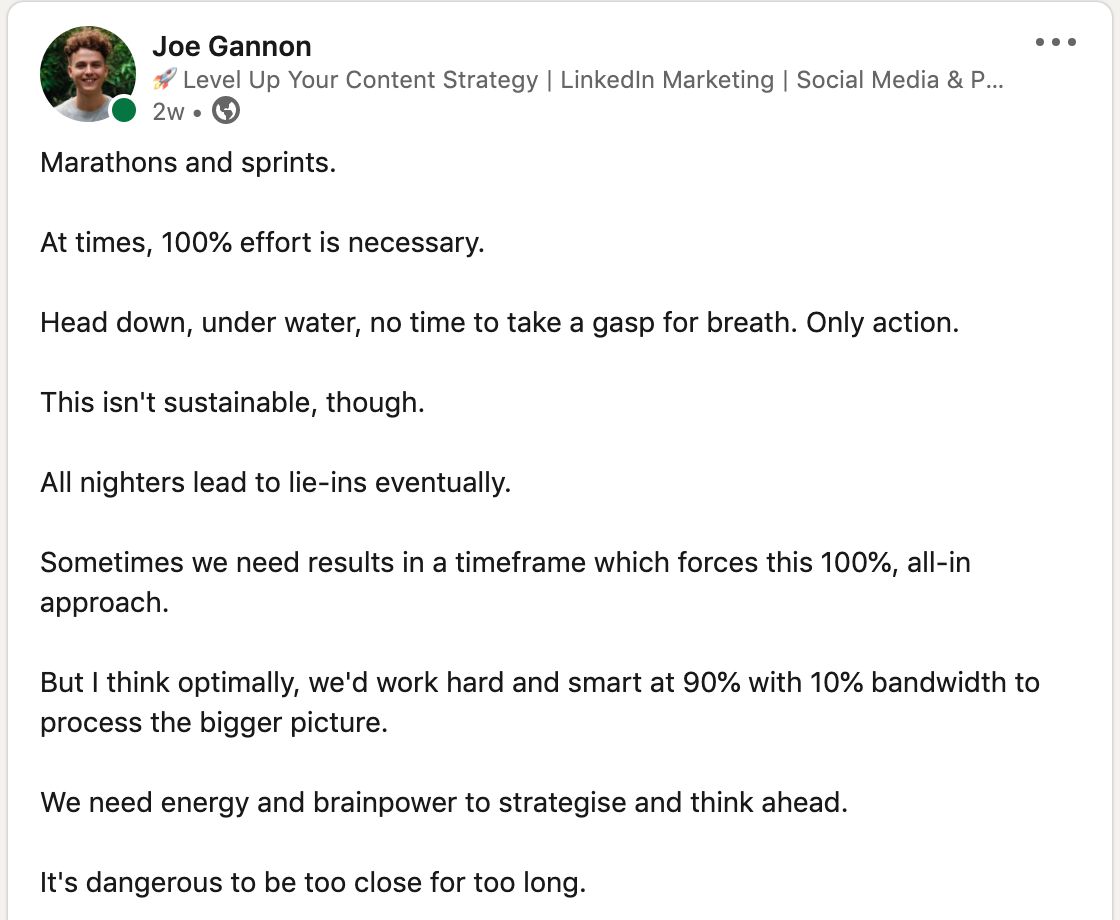 We have to consider opportunity cost when it comes to 'pushing through'. If we are working too much, we don't realize that our brains are not firing on all cylinders at 100%. You can, and should, take a break to allow yourself to recharge, otherwise you will literally be stopping yourself from coming up with new ideas and solutions.
Reply to this email with a saying that means a lot to you OR your favourite above!
Talk soon,
Joe
---
Content tip of the week 🚀
Break down large tasks into small actionable steps! When creating content it can be so daunting to produce anything long-form whether that's a blog article or a video. So instead, break down the small steps it would take to complete it. With blogging, it's usually to write a rough outline before just getting stuck in right? Or at least having a foggy idea of what you want to write about. If your task is 'Start outline for X blog', you now have something tangible to schedule and start. You'll then get through that in a breeze and you'll be tapping away before you know it.
---
Book of the week 🕹️
Gettings Things Done - The Art of Stress-Free Productivity by David Allen
This week's content tip comes from a book that changed my productivity game. David Allen introduced to me to the concept of 'breaking things down into actionable steps'. I've forever failed to stick to a fitness plan, but this week I'm aiming to be consistent just for 1 week instead of being overly ambitious with 6! I'll let you know how I get on…
---
Ali Abdaal has done it again! This video is insane and covers essential knowledge we should all know about investing. I've been investing in index funds for about a year now but only because my brother is a good influence. Hopefully, this inspires you!
---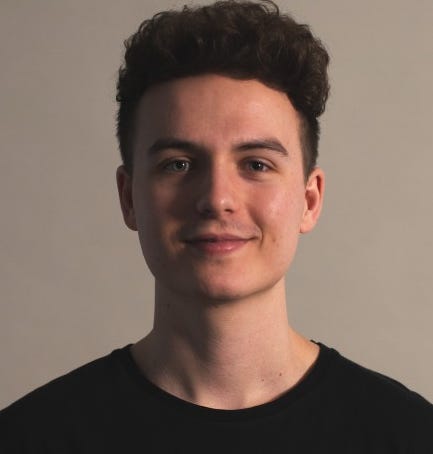 I'm Joe, a content marketer passionate about personal development and psychology. Every Sunday, I write an email newsletter with 1 thought, 1 content tip, and 1 article I'd recommend. Usually, I go over-board and provide a little more 😁